Posted
06-03-2020, 01:32 AM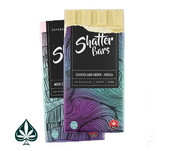 CAD$16.00
Euphoria Extractions
shatter bars
was created upon the belief that everybody should have the option of mind-opening freedom, spiritual exploration, and self-healing. We came into existence to enjoy the products we wanted most, but we could not find reasonable access to acquire them.
We have decided to share our joys with our fellow Canadians to allow everybody age 19+ to obtain the happiness, spiritual, and medicinal fulfillments they need, or desire, all produced with the highest quality materials, making Euphoria Extractions a brand you can trust.
At Euphoria Extractions, we work hard to ensure you receive the highest quality, best-tasting extractions and edibles on the market. Lots and batch numbers help to ensure rapid identification. We believe in keeping everybody well informed to be able to provide accurate portion control on the products we provide, so everybody can feel happy safely.
Shipping is free on all orders over $149.
Orders will only be put into processing status after Interac E-transfer payment has been received. Please note that we will need to verify your age and that you have a Canadian shipping address in order to process your order.
Once we collect your Interac E-Transfer payment, your order will be processed and will be shipped within 1 business day. We will email your Canada Post Xpresspost Tracking Number as soon as it is available.
You will generally receive your package 1-3 business days after receiving your Xpresspost Tracking Number.