In Z Air cannabis seeds

From perfect tree genetics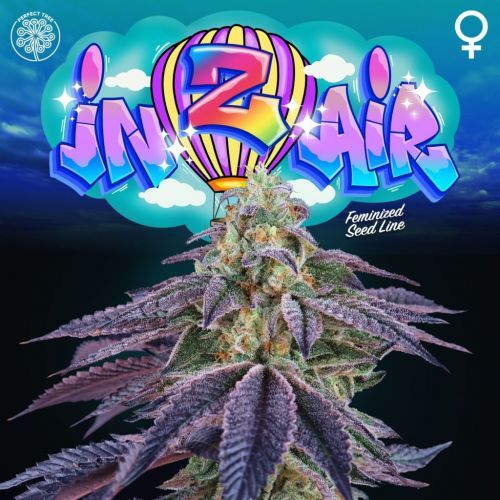 "In Z Air is an indica/sativa variety from Perfect Tree and can be cultivated indoors (where the plants will need a flowering time of ±60 days), outdoors and in the greenhouse. Perfect Trees In Z Air is a THC dominant variety and is/was only available as feminized seeds."
Seedbank
Perfect Tree
Gender
Feminised
Variety
Hybrid (40/60 - 60/40)
Type of flowering
Photoperiod
Flowering time
(indoors) 8-9 weeks
THC
Very High THC (over 20%)
CBD
content Low
Yield
High
Plant Height
Medium
€ 66.00 now € 49.00 for 6 seeds
"Perfect tree is a small handcrafted cannabis seed company created by a group of passionate people. They are growers, extractors and collectors that are constantly experimenting with the plant to find the best genes. They have selected some of the finest strains to work with that have been collected from various seed banks and breeders all around the world. Perfect Tree have kept the one that impressed them the most in terms of its terpene profile, resin production and even the emotions that it produces.
Their goal today is to develop intense and surprising, aromatic varieties in order to meet the expectations of the connoisseurs. Perfect Tree work exclusively from seeds that are produced by modern, hybrid varieties and as a result have obtained some unique plants.
Perfect Tree offer feminised seeds so the grower can enjoy the taste of the originally selected clones. They also intend to offer regular seeds so that others can pursue the quest for the Perfect Tree.
To ensure the quality and stability of their varieties, they are testing 100% of their seeds. They also have a team of growers worldwide that test them in all kinds of environments. Quality is the most important thing for them, they want you to be amazed by the beauty, resin and all of the great aromas that the plants leak out into the room."
Check out more dank cannabis strains from perfect tree
Visit

cannabis-seeds-store.com

for more info on buying cannabis seeds online
Search our Legal cannabis products

G

o

o

g

l

e

search engine